Given the gravity of the situation facing long term care facilities, urgent action was critical. We built a national strategy to drive awareness to the situation's severity among key decision makers and influencers with an urgent call to action to send reinforcements.
To secure assistance in the form of funding and resources, including additional staffing, PPE and COVID testing, we launched a surround-sound campaign that included a mix of earned media combined with targeted digital and television advertising to drive our message directly to officials in the White House, U.S. Department of Health and Human Services (HHS), Centers for Medicare & Medicaid Services (CMS), Federal Emergency Management Agency (FEMA) and Congress.
We employed an "all-of-the-above" communications strategy to drive our push for resources, including:
A 50-state public affairs campaign with AHCA/NCAL's state associations
A rapid response program to combat any misinformation about nursing homes during the pandemic
A robust digital and television advertising campaign
Dynamic website development
Earned media pushes in both national and local outlets
Video creative featuring real long term care staff, residents and their families
Organic social media management
As lawmakers began discussions around COVID-19 relief funding, we launched SaveOurSeniors.org detailing support needed for nursing homes that we used for tightly-targeted, geofenced digital advertising to drive traffic and engagement to federal policymakers with a call to action to send urgent funding and resources.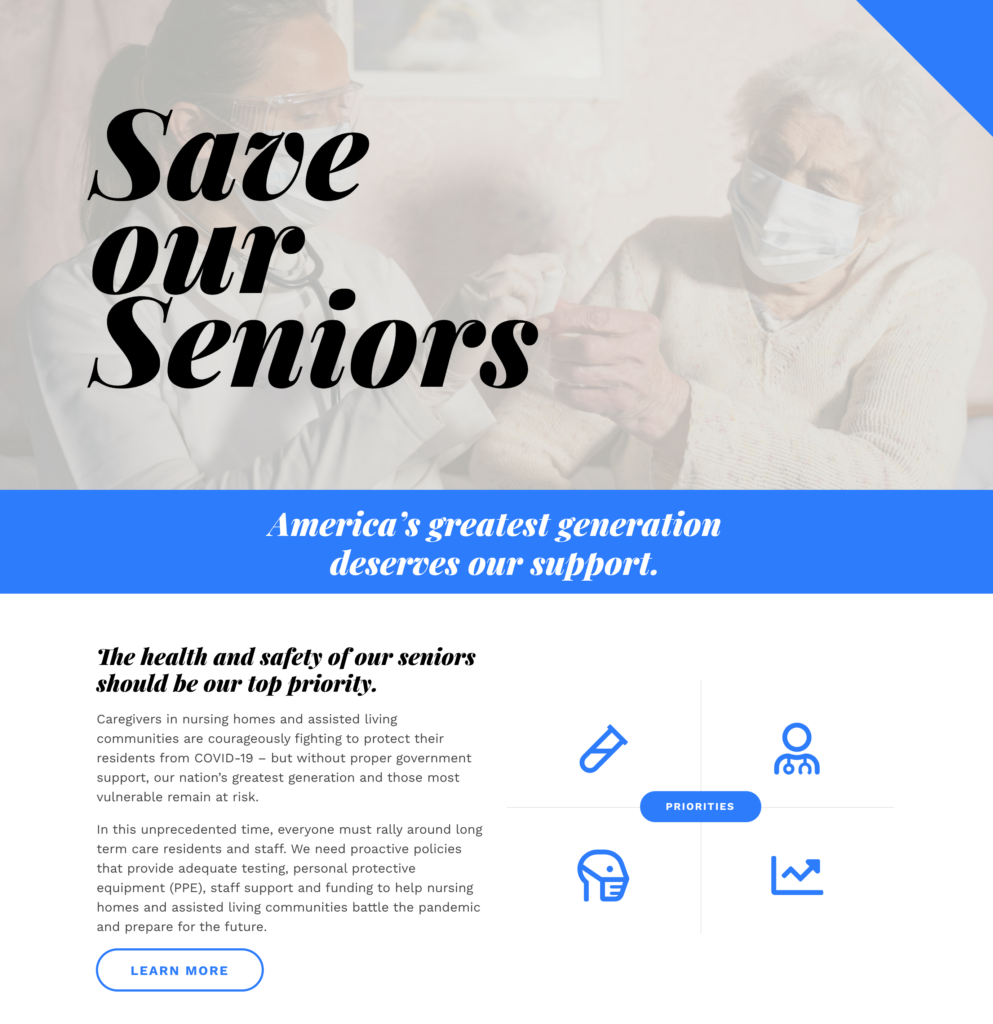 Simultaneously, we launched CareNotCOVID.com allowing the general public to send encouraging messages to nursing home residents and staff and using the hashtag #CareNotCOVID to highlight positive stories of recovery, heroism and community support.