3/18
PLUS' Work with Fairness for Athletes in Retirement (FAIR) Helps Overhaul NFL Pensions
By: Chris Bond & Phalen Kuckuck
The Collective Bargaining Agreement (CBA) reached by the National Football League (NFL) and the NFL Players Association (NFLPA), starting in the 2021 season and running through 2030, delivered a big win for former players who retired prior to 1993. Alongside them was Fairness for Athletes in Retirement (FAIR), a PLUS Communications client, who led the advocacy campaign for pension parity. Even with the highest injury rate of any sports league and skyrocketing profits, the NFL's pension for pre-1993 retirees paled in comparison to what today's players or alumni of other sports leagues received.
Stories of overwhelming health issues on the part of NFL legends who built the league pointed to the clear need for reform. The CBA increased pensions for all vested pre-2012 players to $550 per month per year of service, which for pre-1993 players represents a raise of $176 to $192 per season.  This results in an increase of about $15,000 annually for a "typical" vested pre-1993 player, who played seven seasons.
The CBA also lowered the minimum tenure for pre-1993 players to vest in the pension plan from four years to three.  Additionally, monthly pension credits for all vested players are guaranteed to rise either $25 or $50 in five years, depending on NFL revenue growth, which helps offset inflation.
And many players will also receive a health-reimbursement account worth $50,000 depending on their age, Medicare status and other factors.
Through both traditional and digital media, PLUS worked with players and advocates like NFL greats Jim Brown, Dick Butkus and Steve Largent to successfully promote FAIR's message of pension parity.
FAIR's mission and work were covered by numerous high-profile outlets, including The New York Times, The Associated Press, Fox News, The Athletic, and Washingtonian.  
As The New York Times reported:
The N.F.L. loves to honor its retired "legends" and praise them for making the league what it is today.  But when it comes to retiree benefits, there are clearly two classes of former N.F.L. players: those who finished before 1993 and those who came after … [Former players] have created a nonprofit group called Fairness for Athletes in Retirement, or FAIR, that has a single goal: to receive pensions equivalent to those of players who retired after 1993.  
FAIR spent more than two years compiling actuarial data and developing comprehensive materials for NFL owners and players to detail the pension crisis for men who played before the 1993 CBA went into effect.
Retired player and EVP of Football Operations for the NFL, Troy Vincent, said in an op-ed:
For half a century these men and those who played the game in the 1960s and 70s have struggled to receive small and incremental health and retirement benefits. From pain management to basic health care, this group of players was mostly on its own. … The league and the NFL Players Association, however, not only heard the stories of these legends, they listened and acted. The new collective bargaining agreement ensures that thousands of former players and their beneficiaries will see their pensions increase by 50 percent or more.

In addition to strategic and communications support, PLUS' team produced video content for the effort, including Blood, Sweat and Tears and NFL Legends Call for Pension Reform.
And the digital team delivered content in various ways, including by geo-targeting the 2020 Super Bowl, as well as the 2019 Hall of Fame inductions in Canton, Ohio.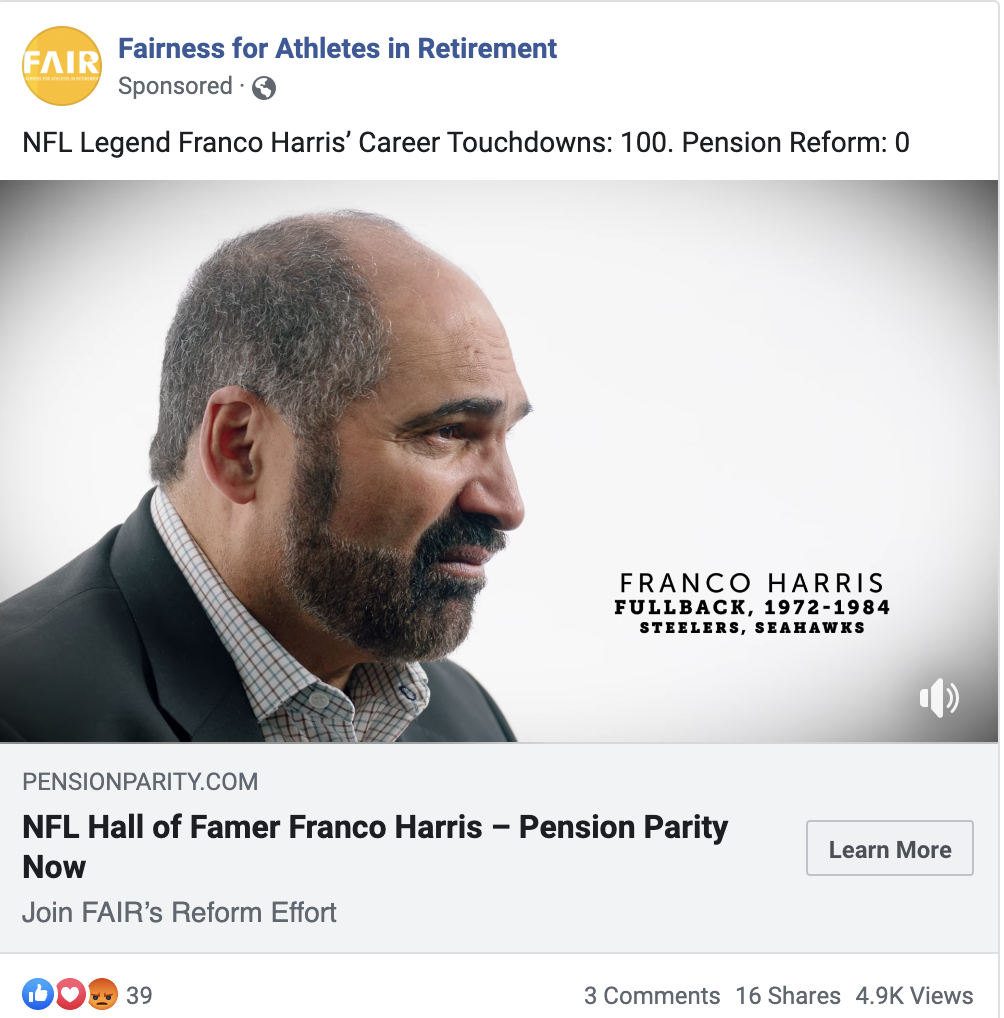 Through a multi-faceted campaign driving a sustained message to a targeted audience, PLUS helped FAIR put points on the board for pre-'93 NFL retirees.
"There are so many pre-1993 players who are struggling in large part because pensions have been so low for all these years.  It seems like the NFL and the players realize what these pioneers did and sacrificed to make this the $15 billion enterprise it is," said FAIR President and Founding Board Member, Lisa Marie Riggins.
Want to learn more about how PLUS can help on your advocacy campaign? Contact us today. 
---
---