1/27
Design 2020 Roundup
By now you've heard it a million times: the year 2020 was unlike any we've ever experienced. A global pandemic, new heights of political discourse … the list goes on and on.
As Americans hunkered down at home, our design team got to work producing a record amount of content needed to support this newly captive and ultra-engaged audience.
We spent 2020 creating new brands from scratch and bringing them to life – from the smallest 300-pixel online display ad to the largest billboard in a major metropolitan city. We're proud of what we accomplished in the design world last year and excited to share some of our brightest highlights with you.

Sheer Volume
There were 366 days in the year 2020 (yes, it was a leap year). To say that we were designing every single one of those days is an understatement.
We completed more than 12,207 projects for our clients. According to our calculations, that's more than 30 projects per day.
From social media and display graphics, to reports and print collateral, animated GIFs, logos and websites — we worked around the clock to put our clients' brands into action.
Logos & Branding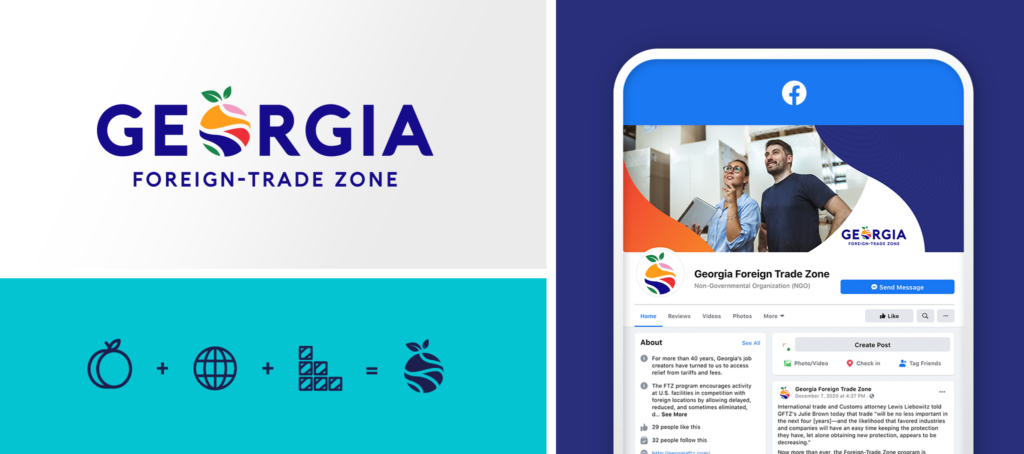 The Georgia Foreign Trade Zone's new logo and branding package brings a fresh look and boosts consumer and business leaders' familiarity with their efforts to provide relief from tariffs and fees. The logo combines the Georgia peach shape and the movement of global imagery, using colors sourced from the iconic multi-colored shipping containers found at every trade-zone port across the country.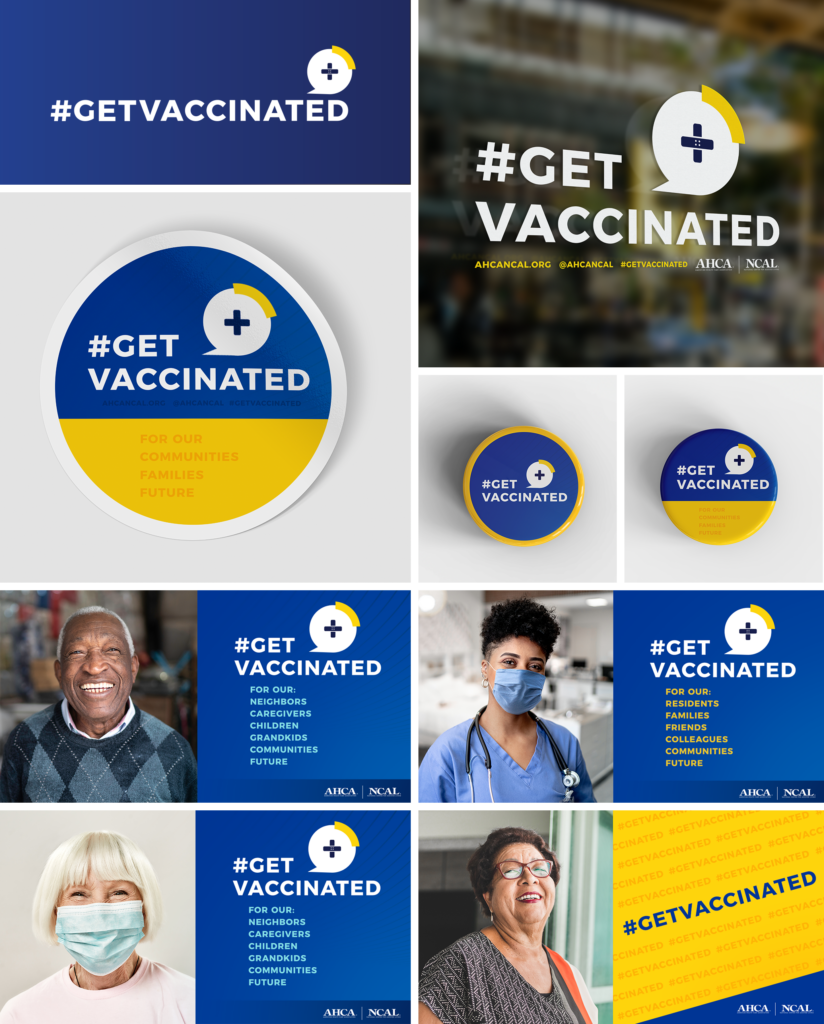 The American Health Care Association and National Center for Assisted Living's #GetVaccinated logo and branding brought about a significant push for COVID-19 vaccination acceptance in long term care communities. Since the importance could not be overstated as they continue fighting the pandemic, we rolled out collateral and assets to give the initiative a robust set of elements that ensured and reinforced vaccine safety.
Each element of the new brand was carefully thought out. The speech bubble represents starting the vaccine conversation, which supports the campaign's goal of spurring real-world discussion about what vaccinations means to the audience. The Band-Aid serves as a symbol that, with a vaccine, we are one step closer to the elusive "post-COVID era."
Armed with a personal passion for the project, our team knocked out the entire 28-piece branding package in less than a week. From the logo to posters, stickers, pins, table tents and more. We created a meaningful brand that will receive high visibility in one of the most important public health efforts of our generation.
Digital Advertisements
You see hundreds of them every single day as you browse the internet, but have you ever stopped to consider the design behind an online ad you get served? Whether in your Facebook and Twitter feeds, or while you were scrolling through the news or your favorite recipe, we produced more than 11,000 digital ads in 2020 and designed every last pixel for maximum impact.
We pushed the boundaries of what voters and advocates are used to seeing come across their feeds, designing with the specific ad unit and user experience in mind. Rather than clutter your social media stream with the same boring graphics, we produced interactive, eye-catching creative that broke through the clutter and resulted in the coveted thumb-stopping outcome.
Check out some examples from Campaign for Sustainable Rx Pricing, POET Biofuels and Georgia Foreign-Trade Zone: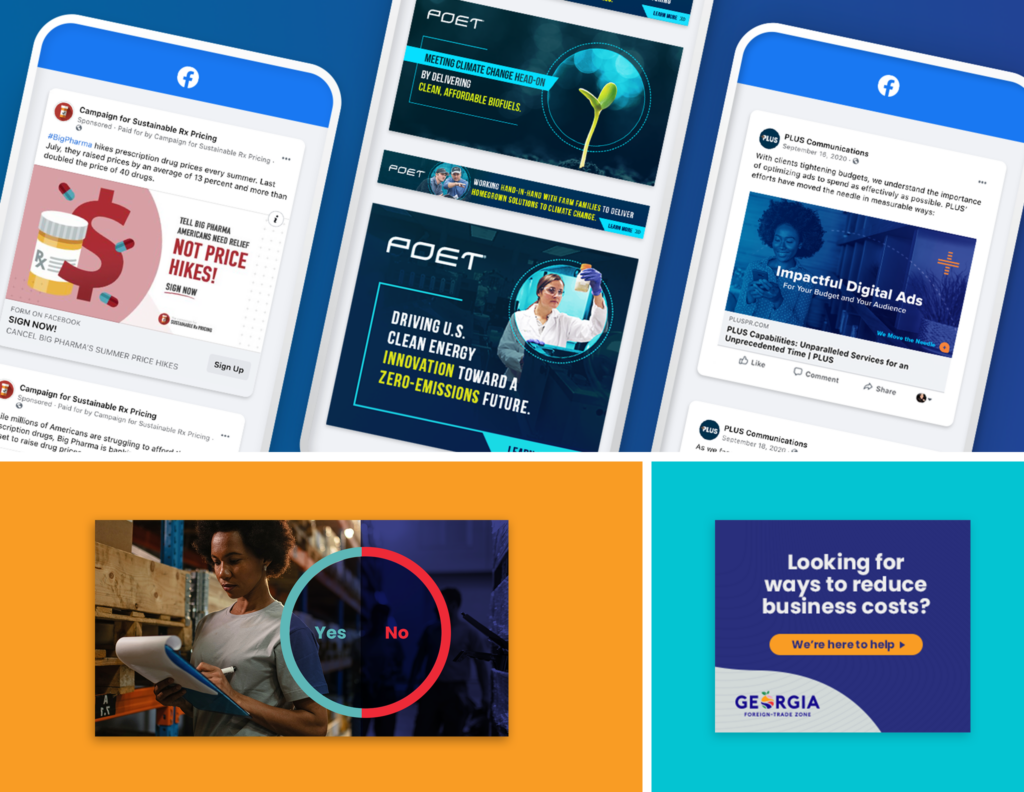 Reports & Print Design
While most of our work tends to be designed for the small screen, more than 500 of our projects' final destinations looked a little different. Whether it's a full-page print ad in The Washington Post, or a fully-bound, 100-page report for a board of directors, we were kept busy this year producing plenty of designs that you can hold in your hand — or in the case of Charter Communications' billboard, that you certainly cannot.
Check out their billboard below, along with a print ad design for #GetVaccinated and booklet design for Connect Americans Now: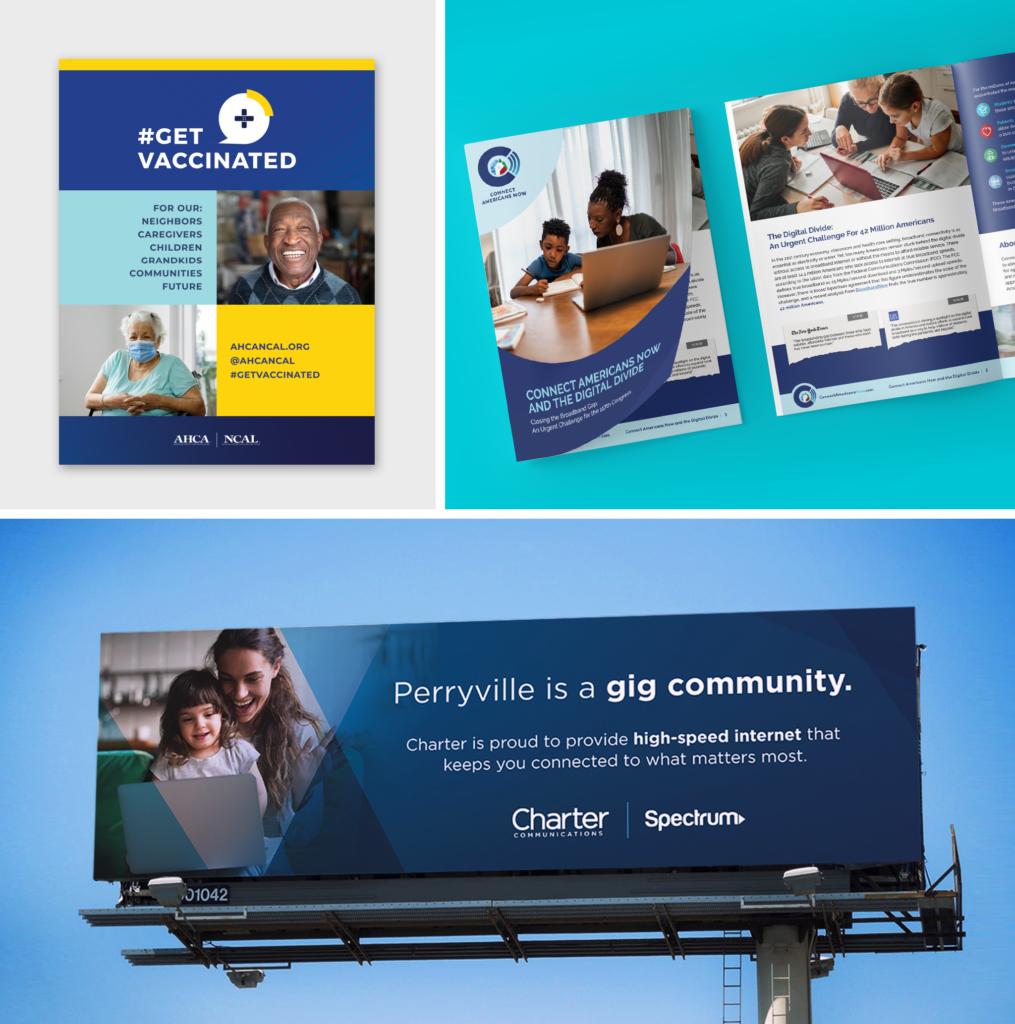 We're proud of the work we did to create eye-catching and meaningful designs for our clients in this crazy year. From the sheer volume of work we churned out, to the unique nature of each design, it surely was a record-setting year. We can't wait to see what comes next.
Contact us to find out how we can help transform your brand in 2021.
---
---