9/27
Digital Advertising Blog Series: CTV
I stream, you stream, we all stream – and networks have fully bought into the streaming rush with new platforms and offerings at every turn. HBO Max, Discovery+, Peacock, Paramount+ are all new platforms offering access for political and advocacy advertising. Which are the best investment?
Our team is at the forefront of testing to uncover the best opportunities to leverage for our clients.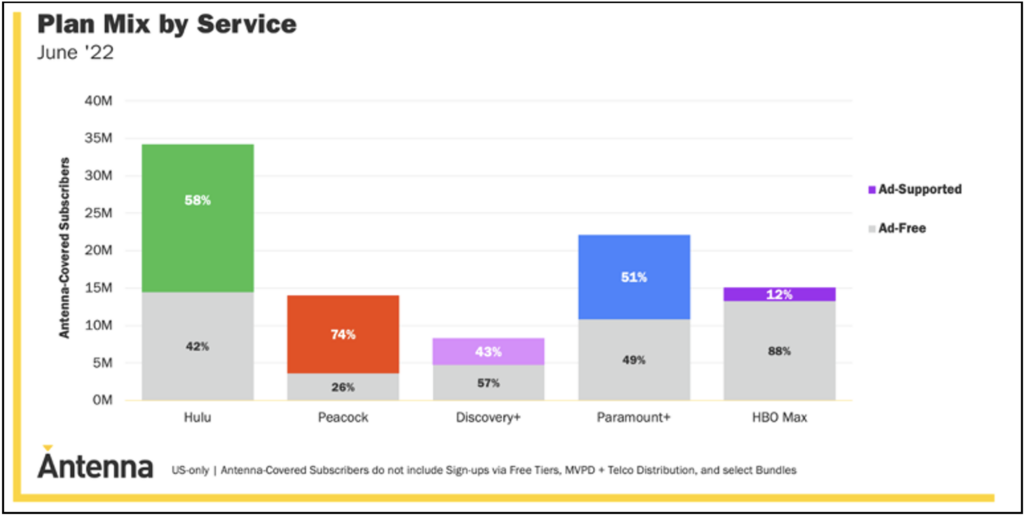 Source: State of the Screens 8.10.22
New Kids on the Block
HBO Max
Our sister firm, FP1 Strategies, placed the first political buy ever on HBO Max. New targeting capabilities have made HBO Max a more competitive offering in the CTV space: starting this summer, advertisers could target 18-plus users statewide, compared to previously only being able to target 18-plus users nationwide.
With only 12 percent of their subscribers using an ad-supported plan, HBO Max's ad inventory is in short supply and costs are very high. Our test campaign had an average cost per thousand (CPM) nearly twice the rate of more established networks, like Hulu.
But don't count this network out just yet. Just this week, HBO Max and Discovery+ announced they are combining their services into one platform coming Summer 2023. This could unlock the scale necessary for efficient and impactful ad buys. 
Discovery+
While Discovery+ has half the total subscribers of HBO Max, they pack a punch with more than 40 percent of their users having an ad supported plan. This allows Discovery+ to offer more detailed targeting options for advertising campaigns.
Similar to HBO Max, Discovery+ has a scale issue. However, instead of charging exorbitant CPM's, they set a spend minimum translating to more reasonable costs for higher budget campaigns. Discovery+ is a cost-efficient channel to reach users for advertising buys with sizable streaming budgets. 
Peacock tops the charts with ad supported users making up three-quarters of their audience base. This boost comes from a 14 percent growth in subscribers in the first quarter of 2022 thanks to the Super Bowl and Winter Olympics. Peacock's challenge is converting those one-time viewers into permanent platform subscribers.
Our testing revealed a requirement unique to Peacock: advertisers cannot purchase Peacock streaming inventory exclusively. Instead, every campaign must also include NBCU run-of-network inventory, red tape aimed at protecting the platform against potential under delivery.
Inventory red tape and a shifting audience base makes direct buying with Peacock expensive, and not well suited for most advertising campaigns. 
Paramount+
Paramount+ comes in a distant second to Hulu's dominance in the streaming space, with more than half of all subscribers on an ad supported plan. While the network's audience base has grown, costs remain high. Our test campaign revealed a CPM nearly a third more expensive than the next highest networks (Peacock and Discovery+).
Similar to Peacock, it's expensive to buy directly with Paramount+ and not efficient for most advertising campaigns. 
On the Horizon
Disney & The Trade Desk
Disney has been at the forefront of streaming news this summer, with two big announcements: a deal with The Trade Desk (TTD) and Hulu's reversal on political advertising restrictions.
Disney's partnership with TTD is important because it levels up Disney's ad tech so that advertisers can reach more precise audiences across Disney's owned and operated networks, including Hulu, ESPN+, ABC, Freeform, ESPN, National Geographic and FX (and soon to be Disney+). Disney and TTD say advertisers can expect this capability to be accessible by the end of 2022.
One caveat for advertisers to keep in mind is that Disney+ inventory will not be accessible for political ads. Instead, political and advocacy ad campaigns should make smart use of the increased targeting capabilities across other high value networks, such as Hulu and ESPN+.
Second, Hulu recently lifted restrictions on political advertising to allow for issue-based ads on myriad subjects. Why does this matter? Hulu has the greatest audience saturation of any streaming network so far (outside of YouTube), meaning it's an important channel for reaching voters ahead of November and it just got easier for advertisers to do so.
Netflix & Microsoft
Political and advocacy advertisers will soon have access to Netflix's coveted 74 million U.S. subscribers thanks to the platform's partnership with Microsoft. The pair announced this summer that efforts are underway to build a new ad platform and corresponding ad-supported subscription model for Netflix. There is still plenty of time for the hype to build – advertiser access is not expected to be available until early 2023. In the meantime, our team is actively following the process for the latest updates and the soonest chance to test out this new inventory source.
---
---